Thursday, November 13, 6:30 pm
How innocent is that?
Eugen Radescu and Bosko Blagojevic in conversation about the state of innocence in Eastern Europe.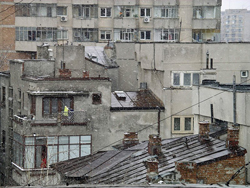 Eugen Radescu
is an independent curator, co-founder, and co-publisher at Pavilion magazine, president of artphoto asc., and co-director of Bucharest Biennale. Eugen Radescu is in residence with apexart as the recipient of a CEC ArtsLink Fellowship.
Bosko Blagojevic
is an artist and writer based in Brooklyn. His writing on art and culture has appeared in a variety of media both online and off, including recently the journals Afterimage, USELESS and Art Asia Pacific, as well as several artist's publications. He, along with Xenia Pachikov, is co-founder and director of Platform for Pedagogy, a New York-based organization working to advance a culture of cross-disciplinary public lecture attendance and develop the lecture as form.
Please join us.
All events are open to the public and free.
apexart
291 Church Street, NYC, 10013
t. 212 431 5270
www.apexart.org
Directions: A, C, E, N, R, W, Q, J, M, Z, 6 to Canal or 1 to Franklin.
apexart's exhibitions and public programs are supported in part by the Andy Warhol Foundation for the Visual Arts, Carnegie Corporation of New York, Edith C. Blum Foundation, Mary Duke Biddle Foundation, and with public funds from the New York City Department of Cultural Affairs and the New York State Council on the Arts.