www.nettime.org
Nettime mailing list archives

[AntiTesi] on Mon, 28 Sep 2009 16:14:00 +0200 (CEST)

[Date Prev] [Date Next] [Thread Prev] [Thread Next] [Date Index] [Thread Index]
<nettime-ann> RUMENTARIUM Sound Installation by Andrea Valle
Subject: <nettime-ann> RUMENTARIUM Sound Installation by Andrea Valle
From: "[AntiTesi]" <info {AT} antitesi.org>
Date: Fri, 25 Sep 2009 19:05:24 +0200
---
.
h 19:00 Inaugurazione dell'installazione sonora RUMENTARIUM
h 21:30 Performance sonora con l'autore Andrea Valle
Ingresso gratuito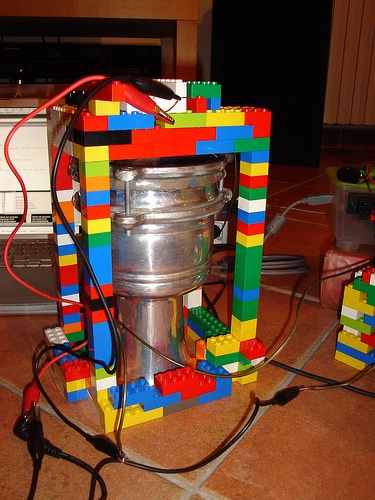 RUMENTARIUM
Installazione sonora di Andrea Valle
Motori e percussioni riciclate assemblate in costruzioni Lego e pilotate da computer per creare imprevedibili architetture sonore.

 



CasaOrioles [Ingresso nel cortile]
Via alla Piazza dei Tedeschi, 4 [all'angolo con Via Porta di Castro]
Palermo

--
www.antitesi.org - info "at" antitesi.org

________________________________

!i!i    Privacy & antispamming    !i!i
!i!i    english message follows    !i!i 
________________________________
Questa è una comunicazione conforme alle normative della Comunità Europea (DIRETTIVA 2002/58/EC del parlamento Europeo) in materia di invio di messaggi elettronici di promozione e informazione culturale diretta a coloro potenzialmente interessati all'iniziativa e non è da ritenersi Spam.
Gli indirizzi ai quali è stato inviato questo messaggio non provengono da elenchi in commercio, ma sono direttamente rilevati da quanto reso disponibile dagli stessi destinatari, nella rete, nelle loro pubblicazioni o nei siti Internet e conforme ai sensi dell'art. 10 della legge 31 dicembre 1996 n. 675: il vostro indirizzo e-mail viene utilizzato, (NON conservato o  trattato) esclusivamente per ricevere la nostra news e non è presente in alcun database o archivio elettronico pubblico. Esso non sara' comunicato o diffuso a terzi e non ne sara' fatto alcun uso diverso. Qualora desideraste essere eliminati dalla nostra newslist o abbiate ricevuto la presente per errore sarà sufficiente inviare una mail con oggetto REMOVE dall'indirizzo di posta che si desidera rimuovere a questo indirizzo: info "at" antitesi.org
Per contattare il proprietario della lista: info"at" antitesi.org 
Il titolare dei dati potrà richiedere in qualsiasi momento la conferma dell'esistenza, la modifica o cancellazione dei propri dati come previsto dall'articolo 13. 

________________________________

!i!i    Privacy & antispamming    !i!i
!i!i          english message         !i!i 
________________________________
This email policy is a commitment to your privacy and the protection of your information and against spamming. If you received a mailing from us, your email address is either listed with us as someone who has expressly shared this address for the purpose of receiving information in the future, or you have registered or otherwise have an existing relationship with us. 
We respect your time and attention by controlling the frequency of our mailings. We use measures to protect against, misuse and alteration of your data, We will never share, sell, or rent individual personal information with anyone. 
Each email sent contains an easy way for you to cease receiving email from us, or to change your expressed interests. If you wish to do this, simply follow these instructions:
To be removed send an email with subject REMOVE to info "at" antitesi.org. 
To contact the list owner info "at" antitesi.org.
_______________________________________________
nettime-ann mailing list
nettime-ann {AT} nettime.org
http://www.nettime.org/cgi-bin/mailman/listinfo/nettime-ann

---