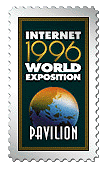 Access for All!
You reached the Access for All Pavilion within the Internet World Expo to be officially opened during the Next Five Minutes.

This site will remain under construction throughout 1996.

For it to grow and spawn off real-life Access for All projects will take your input.

pre-release browsing and beta-testing welcome,
feedback, bugreports & links even welcomer.

Wot iz it?
Access for All strives for three things:


Bringing to the awareness and start a public debate on and devlope criteria for Access to the digital Matrix. The Access for All FAQ is a paper in progress, collecting arguments and strategies.



Bringing together under one umbrella running Access for All projects and promote and support the start of new ones.
Bringing together under one umbrella and fight attempts to prevent Access for All, like the current local telephone rate increases in Germany.


Access for All will hopefully become a collaborative self-organizing structure at some point. For now it is being established, of course, with a little help from some friends, by Volker Grassmuck, vgrass@is.in-berlin.de


If you would like to leave a comment, here is the Guestbook.