FOR IMMEDIATE RELEASE
April 2007
PRESS CONTACT: Sarah Ryhanen
212-966-7745 x15 /  sarah@exitart.org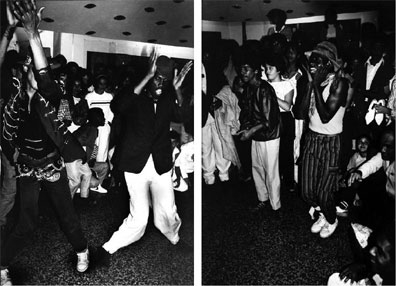 Glexis Novoa, In the end, they all dance together
, 1986
KILLING TIME
Opening Saturday May 12, 7-10pm*
Curators
: Elvis Fuentes, Yuneikys Villalonga and Glexis Novoa
KILLING TIME focuses on the work of over sixty contemporary Cuban artists that have contributed to the Cuban art renaissance since the 1980s, and whose work approaches the subject of time, process and transition in Cuba through different media, including performance, installation, photography, video, drawing, painting, sculpture and ephemera.
This exhibition provides a timely context for Cuban artists whose work has had little or no exposure in the United States. A special section of the exhibition features the origins of performance art in Cuba through original works and documentation materials, never presented in the United States.
Many of the artists in KILLING TIME have metaphorically recorded some of the tensions in the cultural, social and political landscape of the past two decades, and have often been dismissed by the official discourse on the Island or stereotyped by narrow conceptions of identity.

 

For many of them, the Revolution has become a subject of the past, for others, it is still a daily reality that continues to personally affect them.
This grouping of diverse and multi-media works -- by Cuban artists from the Island and abroad -- addresses the idea of time, process and transition as key subjects in contemporary Cuban art. Key sections in the exhibition as identified by the curators include; Time Patterns, Productive Journey vs. Free Time, From Diversion to Subversion, Aging and Decaying: An Archaeology of Utopia, Boredom and Stress, and are particularly expressed through the personal experiences of the artists within the context of the Revolution, as well as the migration experience. In the words of the curators; "The Revolution has been a symbolic intervention on Cuban time. In return, time has shaped discourses of and on the Cuban Revolution… They (the artists) have metaphorically recorded some of the tensions in the cultural, social and political landscape of the past two decades."
KILLING TIME features many of the influential protagonists of early contemporary Cuban art. Leandro Soto and conceptualist Gustavo Pérez Monzón were presented in Volumen I, the groundbreaking Havana exhibition at the Centro International de'Arto in 1981 which gave stage to artists working in mediums such as video, performance and installation. María Magdalena, Campos Pons, Carlos Rodríguez Cárdenas, Glexis Novoa, Segundo Planes, and Lázaro Saavedra were featured in KUBA O.K. a major exhibition at the Dusseldorf Kunsthalle in 1990 which opened the door to Cuban art in Europe.

 

Performance groups like Art.De., Arte Calle, La Campana, and Provisional

 

and artist/performers Antonio Eligio Fernández (Tonel), Arturo Cuenca, Alonso Mateo, Juan-Sí González, José A. Toirac, and Tania Bruguera, round out the 1980s with the famous Baseball Game (1989), in which artists, critics and curators, tired of official censorship, devoted themselves to Cuba's national pastime.
Saavedra and René Francisco Rodríguez are the link between this innovative generation and the next, as they taught at the Havana Institute of Art and were instrumental in the endurance of experimentation and in the foundation of groups ENEMA and DUPP. Among younger artists are Saidel Brito, Carlos Garaicoa, Glenda León, Beverly Mojena, Rubert Quintana, and El Soca & Fabian. KILLING TIME also presents Ernesto Oroza's collection of functional objects produced by ordinary people during the deepest economic crisis in recent Cuban history, the so-called Special Period of 1990s. Tony Labat, César Trasobares, Coco Fusco and other artists form a strong counterpart of this innovative spirit in the art of Cuban exile.
ARTISTS
ABTV, Francis Acea, Pavel Acosta, Jairo Alfonso, Alonso Mateo, Alexandre Arrechea, Arte Calle, Atelier Morales, Juan Pablo Ballester, James Bonachea, Saidel Brito, Tania Bruguera, La Campana Group, María Magdalena Campos Pons, Yoan Capote, Consuelo Castañeda, Nilo Castillo, Sandra Ceballos & Espacio Aglutinador, Raúl Cordero, Jorge Crespo, Arturo Cuenca, Ángel Delgado, Felipe Dulzaides, Dupp Gallery, Ofill Echevarría, El Soca & Fabian, Enema Collective, Henry Eric, Antonio Eligio Fernández "Tonel", Coco Fusco, Carlos Garaicoa, Fernando García, Fidel García, Alejandro González, Juan-Si González, Abdel Hernández, Hexágono Team, Charles Juhasz-Alvarado, Hamlet Labastida, Tony Labat, Francisco Lastra Adorno, Glenda León, Alejandro López, Rafael López Ramos, Janler Méndez, Manuel Mendive, Beverly Mojena, Maritza Molina, Glexis Novoa, Antonio Núñez, Ernesto Oroza, Cristina Padura, Gustavo Pérez Monzón, Alain Pino, Humberto Planas, Segundo Planes, Provisional Group, Aldo Menéndez, Aldo Damián Menéndez, Hubert Moreno, Ramón Moya, Carlos Pérez Vidal, Ernesto Pujol, Rigoberto Quintana, Rubert Quintana, Ángel Ricardo Ríos, Ritual Art-De Group, Fernando Rodríguez & Francisco de la Cal, René Francisco Rodríguez, Carlos Rodríguez Cárdenas, Joel Rojas, Yali Romagoza, Adalberto Roque, Lázaro Saavedra, Leandro Soto, Ezequiel Suárez, Todos Estrellas, José Toirac & Tanya Angulo, José Ángel Toirac, César Trasobares, Hárold Vazquez, Liudmila Velasco & Nelson Ramírez de Arellano, José Ángel Vincench, Ramón Williams
*Music at the opening reception will be mixed live by Pablo Yglesias.
CURATORS
Elvis Fuentes is Associate Curator at El Museo del Barrio, New York. Before joining El Museo del Barrio, Fuentes served as curator at the Institute of Puerto Rican Culture and prepared a retrospective exhibition of the early works by Felix Gonzalez-Torres for the San Juan Polygraphic Triennial, 2004. He has curated numerous exhibitions including Rewind… Rewind... Three decades of video art in Puerto Rico (2005-2006). He was curator at the Ludwig Foundation of Cuba (1999-2002), where he organized more than 20 exhibitions, workshops and lectures, including video art festivals (2000, 2001).
Yuneikys Villalonga is an independent artist and curator based in Havana, and working between Havana and Bristol, UK. She graduated from the University of Havana with a degree in Art History in 2000, and has been an Associate Professor at the Institute of Art (ISA) in Havana since 2000. Villalonga served as curator at the Ludwig Foundation of Cuba from 2000-2003. She won the National Prize of Curatorship UNEAC 2004 for Së Bashku – Juntos – Tillsammans, a traveling exhibition presented in the Tirana Biennial in Stockholm and the Havana Biennial.
Glexis Novoa is a Cuban-born artist living and working in Miami. His work has been exhibited internationally at numerous acclaimed institutions and galleries. He produced The Chronology a catalog that documents the works of Cuban performance artists of the 1980s. In 2006 he was the recipient of The Cintas Fellowship Award.
PUBLIC PROGRAMS AT EXIT ART
Glexis Novoa, Rafael Lopez Ramos, Tania Bruguera, Consuelo Castaneda, César Trasobares, Elvis Fuentes (Moderator)
El Soca & Fabián, Fernando García & Carlos Cárdenas, Juan-Si González, Alejandro López, Maritza Molina, Glexis Novoa with Asael Rosales
Trickster Theater Performances 8-10pm
A film series
and music program
will accompany the exhibition; more information available soon at www.exitart.org
FUNDERS
This exhibition is made possible by generous support from the Rockefeller Brothers Fund, Peter Norton Family Foundation and the Cuban Artists Fund.
General exhibition support has been provided by Altria Inc., Brown Foundation, Carnegie Corporation, Greenwall Foundation, Jerome Foundation, JPMorgan Chase, New York State Council on the Arts, Rockefeller Brothers Fund, Starry Night Fund at The Tides Foundation, Exit Art's Board of Trustees and our members.
Public programming support provided by The New York City Department of Cultural Affairs.
NEW INTERNATIONAL INITIATIVE
KILLING TIME is the first exhibition in a new international initiative at Exit Art of projects presenting international artists and ideas that are under recognized in New York City. The second exhibition in this series, Sultana's Dream
, organized by the South Asian Women's Creative Collective (SAWCC) will open at Exit Art in August 4, 2007. Marking the 10th anniversary of SAWCC, Sultana's Dream
aims to present the unique voices of women of Bangladeshi, Burmese, Indian, Maldavian, Pakistani, Sri Lankan, Nepali, Afghani, and Iranian descent at a time when feminist art is being re-evaluated.
ABOUT EXIT ART
Exit Art is an interdisciplinary laboratory for contemporary culture that explores the rich diversity of voices that continually shape art and ideas.

 

Since it's founding in 1982 by Directors Jeanette Ingberman and Papo Colo, Exit Art has presented over 2,500 artists and has grown from a pioneering alternative art space, bringing attention to the work of under-recognized artists, into a model cultural center for the 21st century.

 

With a substantial reputation for curatorial innovation and depth of programming in diverse media, Exit Art's exhibitions, performances and programs respond to culturally resonant themes, empowering artists to redefine their artistic sensibility.

 

Exit Art is internationally recognized for its unmatched spirit of inventiveness, commitment to supporting artists, and consistent ability to anticipate the newest trends in the culture.

 

A place where different disciplines and audiences converge and cross-pollinate, it is a key site for excavating the unwritten histories of contemporary art and culture.
Exit Art is located at 475 Tenth Avenue at 36th Street. Exit Art is open each Tuesday through Thursday, 10 am – 6 pm; Friday, 10 am – 8 pm; Saturday, noon – 8 pm Closed Sunday and Monday.

 

There is a suggested donation of $5.

 

For more information, the public may call 212-966-7745 or visit www.exitart.org.
# # # #