Nag on 14 Mar 2001 05:09:44 -0000

[Date Prev] [Date Next] [Thread Prev] [Thread Next] [Date Index] [Thread Index]
[Nettime-bold] Mesh/Observatory launch
---

Hello
Could you please send out the following to your subscriber list.

Thankyou,
Nag Vladermersky.



Experimenta is proud to announce the launch of Mesh Issue 14 :
Globalisation and Observatory, a new work commissioned for the
Experimenta online gallery by Dirk de Bruyn.
When: Thursday March 22nd
Time: 6pm.
Where: The Linden Gallery, 26 Acland St, St.Kilda.

Please come along!
--
------------------------------------------------------------------------

EXPERIMENTA MEDIA ARTS exhibits and promotes media arts that explore new
aesthetic, conceptual and technological boundaries.

for information about EXPERIMENTA recent and forthcoming events:
www.experimenta.org

Experimenta Staff
Executive Producer: Fabienne Nicholas
Artistic Director: Lisa Logan
Co-ordinator: Nag Vladermersky


Address:
PO Box 1102
St Kilda South
Victoria, 3182
Australia

Contact:
ph: 61 3 9525 5025              fax: 61 3 9525 5105          email:
experimenta@experimenta.org

Experimenta Media Arts gratefully acknowledges the support of the
Australian Film Commission, Cinemedia, Australia Council for the Arts
and Arts Victoria.


Unknown Document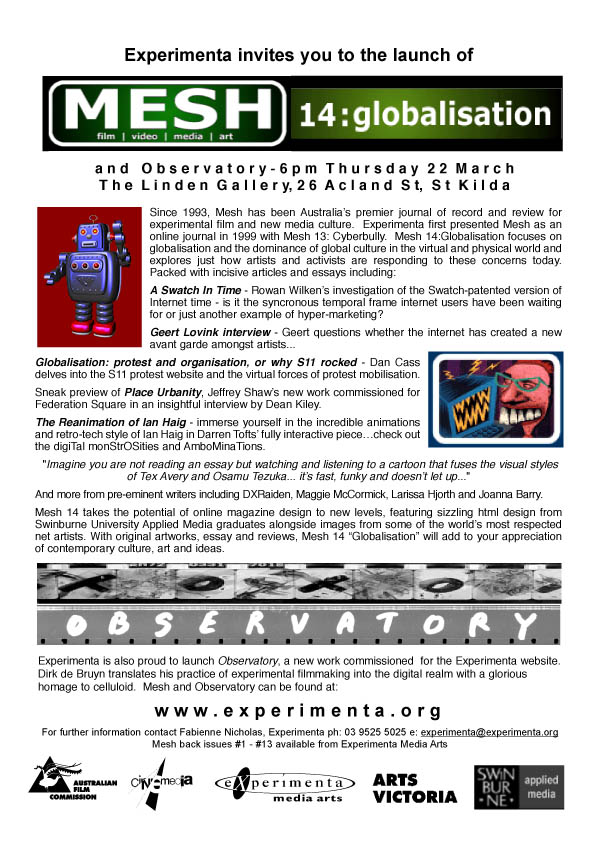 ---